The Polish Officer by Alan Furst
My rating: 3 of 5 stars
Buy the ebook from
Amazon.co.uk
Buy the paperback from
The Book Depository
Buy the paperback from
Waterstones
The Polish Officer by Alan Furst was recommended and a copy given to us by our friend Dave Dyke. Set across Second World War Europe, the novel follows the activities of a Polish former-cartographer, Alexander de Milja, who has been recruited into their intelligence services.
I appreciated Furst's detailed descriptions of the towns and cities to which de Milja is sent. The atmosphere often almost crackled with tension and I was interested to read of the beginnings of the war from a non-British viewpoint. I have always been encouraged to believe that Britain leapt into the fray as soon as Poland fell, and it was only the Americans who dithered. It would seem that we weren't exactly quick off the mark ourselves. Furst cleverly includes fascinating minutiae without slowing the pace of his tale - how to locate a wireless operator, why peasant women might be paid to collect rags - which adds to the convincing authenticity and from a historical point of view, I very much enjoyed this book.
My problem with it was our protagonist, de Milja. Most of the other characters are static, while de Milja travels constantly, so we only meet them briefly and I found it difficult to gain much sense of them as real people. De Milja often doesn't know much of their backstory so neither do we. Unfortunately, de Milja doesn't give away much about himself either. In order to succeed in his new career and identities, he needs to be aloof which makes him difficult to empathise with. And the deeper he gets, the more detached he becomes. By the time we get to Russia, I wasn't actually bothered about him at all and had no emotional involvement remaining in the story. As it turned out, this was a good thing because the story just stops, presumably to be continued in a sequel, which is one of my real pet hates! Authors: please write proper endings!
A Girl Is a Half-formed Thing by Eimear McBride
My rating: 5 of 5 stars
Buy the audiobook download from
Audible via Amazon.co.uk
Buy the paperback from
The Book Depository
Buy the audiobook from
Waterstones
.
The
Bailey's Women's Prize for Fiction
2015 has recently been announced which seemed like the perfect time for me to get around to the 2014 winner, A Girl Is A Half-Formed Thing by Eimear McBride. I have read that it took ages and plenty of refused submissions before McBride found herself a publisher and I can understand that in a way. This is not an easy novel, not in its language or in its subject matter. I think that it is brilliant though!
I downloaded A Girl Is A Half-Formed Thing from
Audible
as an audiobook and believe that this is the perfect way to experience this book. As I already mentioned, the language is not easy. It is written from the point of view of an unnamed young woman who speaks directly to the reader as though she was actually speaking - confessing or recounting - so there are stops and starts, part sentences, abrupt exclamations - at times it could even be poetry. This all makes perfect sense when actually narrated, especially as my audiobook was narrated by McBride herself, but I think it could be extremely hard work to follow as prose. If my review tempts you to try this book yourself, get spoken word!
McBride sweeps many themes into her work. This is an angry scream of a novel encompassing child abuse, rape, the insanity and hypocrisy of religious fanaticism and the intense pain of losing the person we love most. The central family is fractured and violently dysfunctional, yet keep returning to each other despite the pain and guilt this incurs. McBride has written perhaps the most realistic literary portrayal of a rape I have ever encountered and completely understands the self-destruction of her protagonist. Practically every character is shocking, believably real, and I am sure that A Girl will be a novel I will think back to repeatedly over the coming weeks. It requires effort and emotional strength from its readers (and listeners), but is well worth the time put in. An outrageously powerful book.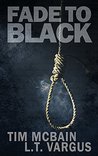 Fade to Black by Tim McBain and L T Vargus
My rating: 2 of 5 stars
Buy the ebook from
Amazon.co.uk
Buy the paperback from
The Book Depository
I have already read one McBain and Vargus novel,
Casting Shadows Everywhere
, and thought it good enough that, when I saw a box set of their new Awake In The Dark trilogy on sale at 99p as a newsletter promotion, I would give it a try. The first in the trilogy is Fade To Black.
I enjoyed the beginning with its graphic and detailed description of what might be real or might be a bizarre dream as our hero, the implausibly named Jeff Grobnagger, finds himself hanging by his ankle and needing to escape from a hooded murderer. Again. Unfortunately, this is as good as it gets and I struggled to get more from the book. Jeff's backstory is tragic, but only stated and not really explored in his character. He repeatedly tells us he is a loner, yet clings to a new-found friend, Glenn, who doesn't really have a character but seems to exist to explain philosophical ideas to the reader. He makes lots of long speeches!
For a short novella length book, a fair bit of the prose is repetitive, but it's nicely written for an easy read with no indie-curse typos (although chapter 17 is repeated). However, I didn't like the frequent plot holes and several scenes stop rather than end - at one point gunshots are fired through Jeff's windows. Then he arrives at Glenn's house. How did Jeff escape? Weren't the villains waiting for him to exit? Was it just a random drive-by? More attention I think needs to be paid to flow as the pace varies from chapter to chapter and the story often jumps forward with minimal, if any, explanation. Then the whole thing stops, abruptly, and that's the end of Fade To Black.
I am sure that pertinent details are set to be revealed in the rest of the trilogy and beyond into at least a fourth book so far. This is probably why Fade To Black is effectively just a prologue and not a story in its own right. However, I am irritated enough by the assumption that, having started a series, readers will obediently shell out for several books in order to get one complete story, that I probably won't bother reading even the rest of what I already have. Disappointing.
View all my reviews on
Stephanie Jane
or on
Goodreads