The Narrowboat Lad
by Daniel Mark Brown
My rating: 4 of 5 stars
One of my
Top Ten Books for IndiePrideDay 2016
.
Buy the ebook from
Amazon.co.uk
Dave and I have toyed with the idea of a narrowboat as a permanent home in the past and even got to the online advert browsing stage, but haven't quite been enough tempted to splash out. Indeed, I have never yet stepped onto one. However I do follow narrowboating author
@sort_of_dan
on twitter and recently learned of a limited time sale on his first book - 99p instead of £1.99. To be honest, it is well worth the full price!
A chance comment started Brown on his 'alternative lifestyle' and in The Narrowboat Lad he talks about how it all came about, purchasing his boat called Tilly, and his first year on the water. I liked that he includes the downs as well as the ups of river living. The isolation certainly wouldn't be ideal for everyone, but being so free within nature and already just at the start of a good walk really got my attention. Brown gives a fair amount of information about the boat itself and the intricacies of canal sailing which was interesting to learn.
While wearing my book reviewer hat, perhaps the less polished writing style should have only warranted a three star rating. However, what shines through Brown's writing is his enthusiasm and joy and this so appealed to me that I happily read the whole book in practically a single sitting (it is quite short) and immediately started telling Dave all about it - always the sign of a good book!
Search Lit Flits for more
:
Books by
Daniel Mark Brown
/
Biography and memoir
/ Books from
England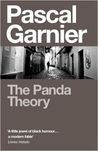 The Panda Theory by Pascal Garnier
My rating: 5 of 5 stars
One of my
Top Ten Books of 2015
and one of my
WorldReads from France
Buy the ebook from
Amazon.co.uk
Buy the paperback from
The Book Depository
Buy the paperback from
Waterstones
I received a copy of The Panda Theory from its publishers,
Gallic Books
, via
NetGalley
in exchange for my honest review. This is my second review for
Sophie And Suze's NetGalley Challenge
and the novel counts as my 2000s read for the
Goodreads / Bookcrossing Decade Challenge
.
Having just uploaded my
Under The Udala Trees
review to NetGalley, I was absent-mindedly browsing the Read Now books when The Panda Theory cover and title caught my eye. I wasn't previously aware of Pascal Garnier so this was a real impulse download, the impetuosity of which I continued by reading the novella on the same day. It's brilliant!
Set in Brittany, an area of France that Dave and I both love, I was easily able to envisage the small town setting as richly described by Garnier. The frequently deserted streets and slightly odd characters add to a creepily unsettling atmosphere, especially as our central character, Gabriel, is the one we as readers know least well. Under the cover of kindness, Gabriel rapidly insinuates himself into the lives of Portuguese bar owner Jose, drug addict Rita and hotel receptionist Madeleine. Then Garnier suddenly whips away the cover and reveals Gabriel's horrific past.
I loved the pace and style of The Panda Theory. It is very French and reminded me of film noir cinema. Garnier manages to swiftly portray deep real people and quirky elements such as the eponymous Panda are cleverly interwoven into his tale. I was disappointed to learn at the end of the book that this author died in 2010, but at least he has left a back catalogue of work for me still to discover.
Search Lit Flits for more
:
Books by
Pascal Garnier
/
Crime fiction
/ Books from
France
Miami
by Joan Didion
My rating: 3 of 5 stars
Buy the ebook from
Amazon.co.uk
Buy the paperback from
The Book Depository
Miami is my 1980s read for the
Goodreads / Bookcrossing Decade Challenge
.
Having learned a lot about California and its history from my previous Joan Didion book,
Where I Was From
, I hoped for similar enlightenment by reading Miami. This book looks at twenty years in the Florida city, from the 1960s to the 1980s, but instead of the wide-ranging information imparted about California, Didion seems to concentrate almost entirely on the political in Miami. I do now have a basic grasp of what the Bay Of Pigs was all about and my overall understanding of the Cuban exile population's predicament in Miami has improved a little. However, I struggled to keep up with all the subterfuge and double-speak, and the sheer number revolutionary and counter-revolutionary organisations that Didion namechecks is bewildering. Her writing is insightful throughout, but this definitely isn't the best book for a beginner to Central American politics of the late twentieth century!
Search Lit Flits for more
:
Books by
Joan Didion
/
Reportage
/ Books from
America