Darkness and Day
by Ivy Compton-Burnett
My rating: 4 of 5 stars
Buy the ebook from
Amazon.co.uk
I received a copy of Darkness And Day from its publishers,
Endeavour Press
, via
NetGalley
, in exchange for my honest review.
I love the elegant new cover for the reissue of Darkness And Day which, together with its Virginia Woolf quote of 'intense originality' convinced me that I had to read the novel. First published in 1951, Darkness And Day does have a certain period charm to it and might well appeal to fans of
Downton Abbey
. It is written as a series of conversations and discussions between the inhabitants of two distinguished houses and, as readers, we get to eavesdrop both upstairs as the families converse and downstairs as the servants do likewise. Ivy Compton-Burnett created some memorable characters. I particularly liked the selfless Mildred, the irascible Bartle and the haunted Bridget. I did think that the words of the children often seemed way beyond their professed ages, but their treatment of Mildred is funny to read.
The themes of class and family are eternal, but Compton-Burnett's addition and treatment of incest is surprisingly modern so this novel must have been incredibly shocking in the 1950s. Her unfolding of the story through gossip and speech is a perfect device for the tale. It is tricky to keep up with who says what at the beginning of the book as the speaker of each line of dialogue is not always identified. However, as the characters develop, their personalities shine through in their words, frequently making identification superfluous. I often felt as though I was reading a play rather than a novel and I think it would be interesting to experience Darkness And Day as a full cast audio recording.
Weeping Susannah
by Alona Kimhi
My rating: 4 of 5 stars
Buy the paperback from
Amazon.co.uk
Buy the paperback from
Waterstones
I bought my copy of Weeping Susannah at the
OXFAM
bookshop when
we were in Petergate, York
, attracted by the premise of a contemporary Israeli novel. I love discovering different cultures through my reading. Set in Tel Aviv, Weeping Susannah is written in the first person and takes us through several months in the life of a thirty-three year old woman. Susannah lives basically as a child, cared for by her aging mother, as her chronic depression leaves her unable to cope with every day life. She has a horror of bodily functions including simply eating so cannot eat in front of anyone, and has never had a job or adult friends other than those of her mother. When an American second cousin unexpectedly arrives and expects to stay in Susannah's home, she initially shuts herself away in her room, but gradually begins to discover that she can be stronger and more social than she believes.
Weeping Susannah is a thought-provoking novel that transcends its storyline to become a fascinating view into depression and mental illness. Susannah is not a sympathetic character. In many ways, she behaves like a child even expecting her mother to pick up her underwear from the bathroom floor after her shower. The unnaturally close relationship between mother and daughter, while allowing Susannah to function, also smothers her rare chances at independence and ultimately leads to disaster when Susannah decides that she could leave. The small central cast of five are brilliantly portrayed and none are exactly sane! Friend Nehema is wonderful and I liked reading her scenes very much.
In criticism, perhaps Weeping Susannah is a little longer than it needs to be and the image of cousin Neo on the front cover was obviously chosen by someone who hadn't read the book - he is supposed to look like the poet Percy Bysshe Shelley - but otherwise this is a good read and a great insight into the culture and blend of nationalities that make up modern day-to-day life in Israel.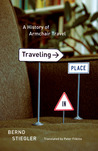 Traveling in Place: A History of Armchair Travel
by Bernd Stiegler
My rating: 4 of 5 stars
Buy the ebook from
Amazon.co.uk
Buy the hardback from
Waterstones
Traveling In Place is the August free book download from the
University of Chicago Press
and I am glad to report that I got far more enjoyment from this than from the July download of
Dona Barbara
, even though I slightly misunderstood the synopsis. I expected a short story collection of micro-scale travel writings. This book is actually a scholarly survey of many examples of the genre written over the past two hundred years.
I had not previously thought about my room - or my caravan as I should say at the moment - in the same way as I appreciate it now. Stiegler has studied dozens of novels, essays and memoirs, mostly by French and German authors, who have chosen to look at the everyday and the mundane through the eyes of a visitor and a tourist. Apparently the original and example -
Voyage Around My Room
by Xavier de Maistre - is quite famous and extensively quoted. Who would have known?!
Traveling In Place is not an easy read, especially as the only one of the quoted writings that I knew of is Jules Verne's
Around the World in 80 Days
. I admit to being at the limit of my comprehension when we got to early twentieth century experimental film making. However, I am quite taken with the basic premise. The examples of 'flanerie' - exploring one's own familiar environment with new eyes - struck a chord with our current travels around our own country and also reminded me of a character in
Bleeding London
who resolves to walk every street in the London A to Z. Stiegler's extra reading suggestions at the end of each chapter are a great touch and I am inspired to seek some out. I have already found the Xavier de Maistre in English
on Kindle
and will be joining his journey around his room sometime soon.
View all my reviews on Goodreads