GhostiLeaks: 13 Terrifying Tales LEAKED from the Other Side!
by M.J. Peter
My rating: 4 of 5 stars
One of my
Favourite Five Horror Stories for Halloween 2015
Buy the ebook from
Amazon.co.uk
I discovered author
M J Peter on Twitter
and excitedly took advantage of his offer of a review copy of Ghostileaks as I had already read good comments about the short story collection. There are thirteen - unlucky for some! - tales in Ghostileaks and I liked Peter's sceptical narrator approach as this made each scenario somehow more believable. Although an indie publication, the writing is to a high standard with few typos. Each story is well paced to draw the reader in and the descriptions are wonderful: 'a surging swarm of home-time zombies besieged the pavement' is an example from The Investment which isn't a zombie story, simply describing the evening rush hour. I enjoyed unusual twists and turns that meant the story I expected to unfold was often different to its actual denouement so I was kept guessing. I think my favourites were The Sandman and Pause which is very well plotted. A nice touch throughout are the short notes after each tale describing their inception and inspiration. A couple are even true!
I was pleased that most of the horror in Ghostileaks is of the unsettling dread variety and there isn't any truly stomach-churning gore. Several stories kept me pondering after I had finished them, but fortunately none gave me lasting nightmares. The collection would be a perfect Halloween gift and ideal for reading aloud around a campfire!
The Power and the Glory
by Graham Greene
My rating: 5 of 5 stars
Buy the ebook from
Amazon.co.uk
Buy the paperback from
Waterstones
I was lucky enough to spot a copy of Graham Greene's The Power And The Glory on a church charity stall in Tavistock, Devon. This is my 1940s read for the
Goodreads / Bookcrossing Decade Challenge
.
The Power And The Glory is set in Mexico, in a region where Christianity has been banned and the Catholic population forced to continue their worship in secret. Priests are hunted down and those few who have not abandoned their flocks completely must hide away, travel in disguise and lead mass by night in barns without the traditional tools of their trade. Our hero is a sorry excuse for a priest. An alcoholic 'whiskey priest' who has fathered a child outside of marriage, he is also the last remaining free priest and we see the closing noose through his eyes as the authorities, aware of his continued religious practice, slowly get nearer and nearer.
I love Greene's sense of pace and how he managed to fluctuate tension keeping me nervously page-turning throughout. Although this novel is now seventy-five years old its language and writing didn't feel at all dated. Greene's detailed descriptions of the Mexican people and landscapes allow for vivid imaginings but never get bog down the story and we get to meet some wonderfully nuanced characters. There are powerful questions asked of the reader - if your beliefs were banned, would you quietly acquiesce or fight back? What human cost is too much? Should others pay on your behalf? - and these can be applied as much to ethical and social beliefs as to religious ones.
A world-weary sense of inevitability hangs around the edges of the book, especially as the 'whiskey priest' begins to tire of life on the run, and Greene seems to have perfectly understood the stress of his protagonist's situation. The Power And The Glory isn't an easy read and offers different levels of interest depending on how deeply the reader wants to engage with the story. It's certainly a story that has remained in my mind for a long time after I had finished it.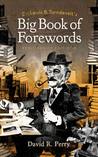 Dr. Lewis B. Turndevelt's Big Book of Forewords
by David R. Perry
Featured in
This Time Last Year for Oct 2019
My rating: 3 of 5 stars
Buy the ebook from
Amazon.co.uk
The fabulously titled Dr Lewis B Turndevelt's Big Book of Forewords was featured in my
Noisetrade
newsletter email this morning. I loved both the title and the cover so took the opportunity to download this distinctly bizarre book. Essentially a short compendium of forewords for other books that don't actually (yet) exist, this collection is humorously written in a beautifully pompous literary style that I think will appeal to readers of Victoriana and steampunk.
Dr Lewis himself is a crabby gentleman of presumably advancing years who is frequently either irritated by modern life or deranged by inappropriate medicinal dosages. I love the variety of long words he uses - as indeed do I - and I even learned that spelunking is a real pastime (who'da thunk it?!)
From moustaches to McDonald's by way of beanie babies and Burma, there's a humorously grouchy essay in this collection that's unlikely to be suitable for any niche non-fiction tome and, while I wasn't laughing out loud all the way through, I certainly indulged in much smirking and even the occasional titter. As a Brit, I am also now intrigued to visit South Dakota where, I assume, Turndevelt is persona non grata. Great fun and a good book for late-night dipping into.
View all my reviews on Goodreads