Under the Udala Trees by Chinelo Okparanta
My rating: 4 of 5 stars
One of my
WorldReads from Nigeria
.
Buy the ebook from
Amazon.co.uk
Buy the paperback from
The Book Depository
Buy the paperback from
Waterstones
I received a copy of Under The Udala Trees from its publisher, Houghton Mifflin Harcourt, via
NetGalley
, in exchange for my honest review. This is my first review for the autumnal
Sophie And Suze's NetGalley Challenge
and the book also counts as my 2015 read for the
Goodreads / Bookcrossing Decade Challenge
.
Under The Udala Trees is set in Nigeria and opens at the beginning of the Biafran War when Ijeoma is a young girl in a comfortably off middle class household. After her father, Uzo, is killed in a bombing raid, her family status crashes and her grieving mother, Adaora, sends Ijeoma to live as a housegirl in a neighbouring town. Alone and isolated, Ijeoma makes friends with an orphan, Amina, and begins to learn about the restrictive conservative lifestyle insisted upon within her country. It is seen as almost unthinkable that an Igbo girl could be friends with a Hausa girl. When their friendship deepens into love and they are discovered, the two are swiftly torn apart.
Ijeoma's mother has embraced fervent religion as a way to cope with her grief. Her insistence on homosexuality being 'an abomination' leads to one of the most interesting sections of Under The Udala Trees as Ijeoma reviews and interprets relevant Bible passages for herself. Her confusion and despair are movingly portrayed. Bullied into submission and eventually coerced into a traditional marriage, we see through her eyes the dangerous life lesbian and gay people are forced to endure in such a repressive society, as well as the innate chauvinism to which even her once-open-minded husband stoops when their child is Not A Boy. I was reminded often of events in
A Thousand Splendid Suns
as the same closed mindsets prevail even though the religions differ.
The novel is delicately enough written to be suitable for a new adult or even young adult readership. Ultimately it does strike a hopeful note despite the current draconian laws against homosexuality in Nigeria.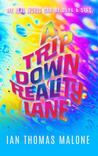 A Trip Down Reality Lane by Ian Thomas Malone
My rating: 3 of 5 stars
Buy the ebook from
Amazon.co.uk
Indie author Ian Thomas Malone befriended
me on Goodreads
and was kind enough to let me know of a limited time opportunity to download his book, A Trip Down Reality Lane, for free
from Amazon
(sorry, the promo has finished now). Its synopsis of a trio of college students visiting a major art museum whilst tripping on LSD struck me as potentially funny and certainly a lot lighter than much of my To Be Read list right now!
There is a lot of humour in A Trip Down Reality Lane, both intentionally witty in the boys' conversation and accidentally so through their bumbling. All three come across as genuine people and their interactions are easily believable. I enjoyed the descriptions of the Boston Museum of Fine Arts and would now love to visit it myself. The intense perceptions of certain exhibits are bizarre and intriguing! Hopefully it would be almost as fascinating when viewed straight? The claustrophobic cinema setting is also well portrayed and I liked the fun idea of the trio making major life discoveries from
The Lion King
.
I could have done with less wordy analysis throughout the story as the introspection was often repetitive. Perhaps this is an important feature of tripping, but from a reader's point of view it slowed the book's pace too much and distracted my attention from the narrative. Post-trip, I felt the story lost focus as many mundane actions and conversations were included unnecessarily. An example would be the lifeguard conversation which could have been condensed to just a few words. All in all though, A Trip Down Reality Lane is a fun novel and an interesting take on the 'coming of age' story.
The Reader by Bernhard Schlink
My rating: 4 of 5 stars
One of my
WorldReads from Germany
Buy the ebook from
Amazon.co.uk
Buy the paperback from
The Book Depository
Buy the paperback from
Waterstones
The Reader is my 1990s read for the
Goodreads / Bookcrossing Decade Challenge
. I saw the film version of
The Reader
at our then-local art house cinema when it came out and remembered the main revelation that would be made during the story. However, I found that this actually increased the poignancy of the earlier writing as I could completely understand some of the layers of meaning. I think the film did follow the book closely.
The Reader starts with a fifteen year old boy recovering from a long serious illness and emerging from his isolation to meet and become the lover of a older woman. The relationship is delicately portrayed and I liked the creation of each character, even though I never actually came to like either Michael or Hanna as people. I felt as though I was always kept at arm's length and became fully immersed in their story.
Having witnessed their relationship, we then re-meet Hanna a few years later. Michael is studying law and Hanna is a defendant in a trial he observes. His attempts to analyse his reaction to her both as a past lover and as a war criminal are interesting, as is Schlink's discussion of the culpability of the whole German nation immediately post-war. This is a very thoughtful book, an approach which sometimes overwhelms the central story at its heart, but for good reason. Hanna's simplicity during her trial - what should I have done? - pose a fascinating dilemma to the eponymous Reader as he listens to proceedings and also to the readers of the novel itself.
View all my reviews on
Stephanie Jane
or on
Goodreads